As you may have seen on our social media and in our previous article, we have worked on some truly astonishing basement conversions across Fulham, Chelsea, Wandsworth and South West London. In this blog, we take a closer look at one of our most popular projects across social media, Trinity Road, and our art gallery-inspired basement conversion.
Before we started, there was no basement.
Situated on Trinity Road, Wandsworth, the property is a terrace block home that simply had no basement. The client wanted the house extended in all directions, to transform it into a spacious area ready to host parties and guests. We knew a rear extension would be possible, but limitations in property development in the area would mean the home could only extend so much.
To achieve maximum space, we decided to instead build downwards. Working with the designers at Ade Architecture, we devised the addition of not only an entire floor underneath the house, but in terms of square footing, the biggest floor of the home. Themed around the idea of being an art/film gallery, the basement dig out spans the entire span of the house front to back, and extends into the garden area.
A grand entrance to downstairs.
It was essential the first steps down into the basement set the tone for the space. Mixing polished cement with timber, we designed a staircase that feels modern but sturdy, with spotlights guiding guests down the stairs to our gallery-themed basement. The metallic grey wall with neon signs seals the deal you have transported from Wandsworth into trendy East London.
A private cinema to unwind in.
The centre piece of the basement is undoubtedly the home cinema room. With artisan built furniture, luxury seating, Dolby Atmos surround sound installed around the room and 100% sound proofing, the movie experience our client experiences rivals most cinemas.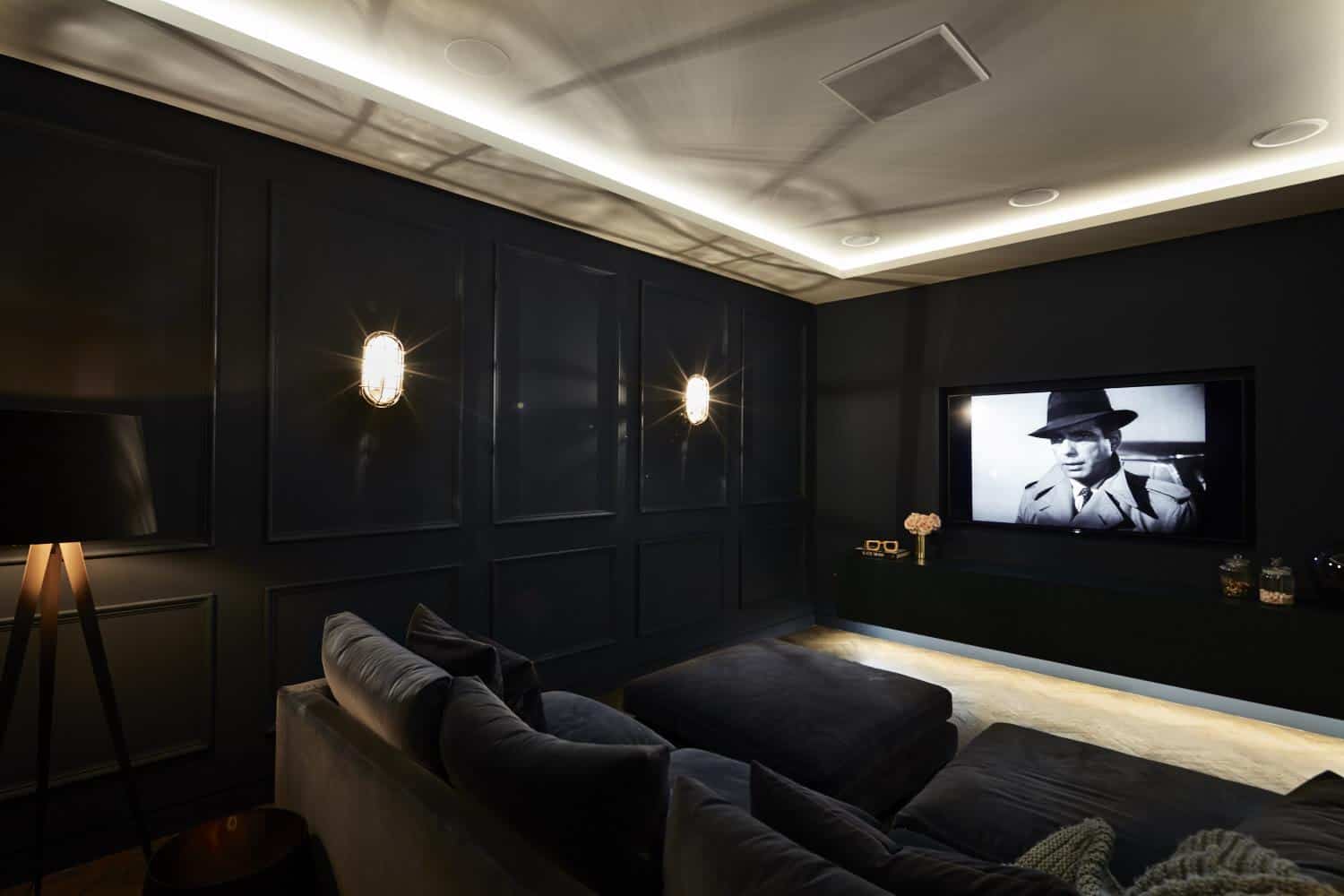 A gallery for a bathroom.
Basement conversions in South West London tend to permit tall walls, and this affords some fabulous ideas when it comes to downstairs bathrooms. With Trinity Road, we designed a bathroom that was minimalistic with exposed white bricks, that evokes the feel and vibe of a Camden gallery. We also sourced a vintage sofa and some local art deco to really sell the atmosphere the client wanted to bring to the room.
The garden bar.
As featured in our previous article, the client wanted to add a private bar area to the garden of this home that felt like a natural extension of the garden. With no permission to extend the property above ground, we utilised the basement conversion. The open design with transparent sliding door, natural lighting and colour palette of the staircase means it feels like the garden flows in from above ground, hitting the right notes for the bar — and client!
---
Like what you see? Let's talk about turning your dream home into a reality – get in touch here!